NATIONAL OPIOID AND SUBSTANCE AWARENESS DAY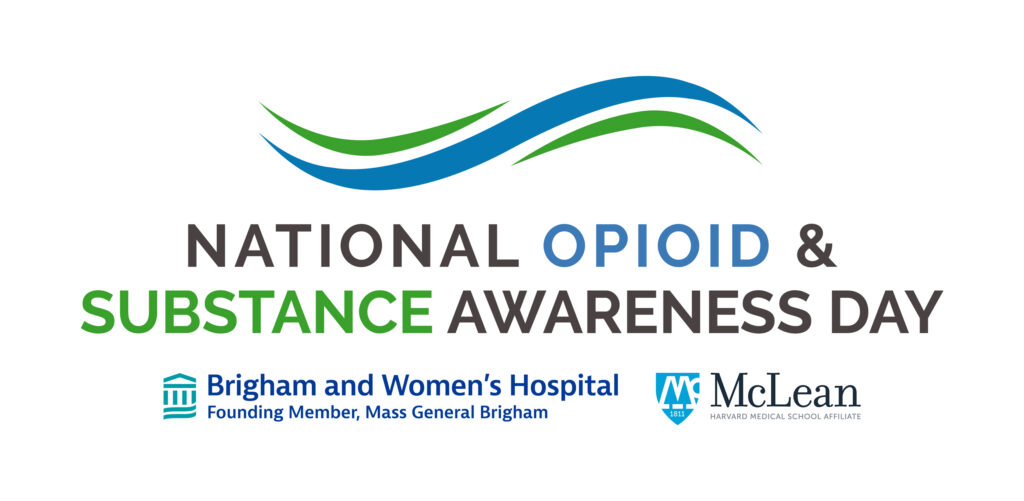 September 21, 2021
Noon-3pm EDT
The Impact of COVID-19 on Substance Misuse and What Can Be Done
A Virtual Event: Town Hall, Online Screening & Referral
Directors: Douglas Jacobs, M.D. & Scott Weiner, M.D., M.P.H.
National Opioid and Substance Awareness Day was kicked off with a virtual town hall event, where participants learned from experts and from those with lived experience about substance misuse, treatment, and the impact of the COVID-19 pandemic. Participants were able to take free, anonymous, online screenings for themselves or a loved one. For those who screened positive or still had concerns about substance use, there were referrals to local treatment resources through the SAMHSA Treatment Locator.
National Opioid and Substance Awareness Day is co-hosted by the Brigham Comprehensive Opioid Response and Education (B-CORE) Program and McLean Hospital in partnership with the Kennedy Forum, SAMHSA, Mental Health America, The Voices Project, Shatterproof, the American Association for the Treatment of Opioid Dependence (AATOD), the American Academy of Addiction Psychiatry (AAAP), and the American Psychiatric Association.
SCHEDULE FOR TOWN HALL
Noon-3:00 PM, EDT
Welcome Letter from Massachusetts Governor Charlie Baker (click here)
Introduction and Opening Remarks (12:00pm-12:50pm)
SCOTT G. WEINER, M.D., M.P.H.
Co-Director, National Opioid and Substance Awareness Day
Director, Brigham B-CORE Program
Associate Professor, Harvard Medical School
Honorary Guests
FORMER U.S. REPRESENTATIVE PATRICK J. KENNEDY
Former Congressman, Founder of Kennedy Forum, Former Member of the President's Commission on Combating Drug Addiction and the Opioid Crisis, and Co-Founder of One Mind
STATE SENATOR JULIAN CYR
Massachusetts State Senator representing Cape Cod, Martha's Vineyard, and Nantucket
RACHEL LEVINE, M.D.
Assistant Secretary For Health, U.S. Department of Health and Human Services
MIRIAM DELPHIN-RITTMON, Ph.D.
Assistant Secretary for Mental Health and Substance Use, Substance Abuse and Mental Health Services Administration
Keynote Speaker (12:50pm-1:20pm)
Collision of the Opioid Crisis and the Covid-19 Pandemic
NORA VOLKOW, M.D.
Director of the National Institute on Drug Abuse at the National Institutes of Health
Session 1 (1:20pm-2:20pm)
Buprenorphine Treatment
CLAUDIA RODRIGUEZ, M.D.
Director of Outpatient Addiction Recovery Program, Instructor in Psychiatry, Brigham and Women's Hospital
Treatment with Methadone
JAN KAUFFMAN, R.N., M.P.H., L.A.D.C.-1
Vice President, Addiction Treatment Services, North Charles Foundation
Director of Addictions Consultation, Cambridge Health Alliance
Assistant Professor of Psychiatry, Harvard Medical School
Polysubstance Use and Co-Occuring Disorders
KENNETH B. STOLLER, M.D.
Director, Johns Hopkins Hospital Broadway Center for Addiction
Associate Professor of Psychiatry and Behavioral Sciences, Johns Hopkins University School of Medicine
Opportunities for Antiracism in Mental Health and Substance Use Disorder Services
JESSICA ISOM, M.D., M.P.H
Clinical Instructor, Yale University
Full Time Psychiatrist, Codman Square Health Center, Boston
Session 2 (2:20pm-3:00pm)
The Power of Recovery: We Are the Answer to Ending America's Addiction Crisis
RYAN HAMPTON
Founder, The Voices Project
A Family's Story: Turning Pain into Purpose
GARY MENDELL
Founder and CEO, Shatterproof
How to Take a Screening for Substance Use Disorders and Other Mental Health Conditions
DOUGLAS G. JACOBS, M.D.
Co-Director, National Opioid and Substance Awareness Day
Medical Director and Founder, Fighting Opioid Misuse
Associate Professor of Psychiatry, Part-time, Harvard Medical School
Clinical Associate in Psychiatry, McLean Hospital
What are the goals of National Opioid and Substance Awareness Day?
To offer free, anonymous, interactive, online screenings for substance misuse and other mental disorders to individuals and/or loved ones.
To educate community members on the signs, symptoms, facts, and dangers of substance misuse and disorder so the disorder is better recognized, treatment options become more visible, and stigma is reduced.
To discuss the impact that the Covid-19 pandemic has had on substance misuse and what can be done.
To give participants and their loved ones a clear picture of whether the behaviors and symptoms that they or their loved ones have been exhibiting may be indicative of substance misuse/disorder. The free, anonymous online screenings provide a quick, simple, and easy way to do this.
To provide participants an opportunity to learn from persons with lived experience about the steps in the recovery process and understand the impact of the disorder on a family.
To connect at-risk participants with quality treatment options in their local community through the SAMHSA Treatment Locator.
WHAT WILL THE AWARENESS EVENT OFFER?
A free town hall with up-to-date information about substance use disorder, hosted and moderated by experts in the field. A link to the webinar will be provided. The Town Hall will be recorded and subsequently available for online viewing.
An anonymous, free, online screening tool for substance use disorder.
Those who score positive or are concerned about their loved ones can contact local facilities at FindTreatment.gov for evaluation, treatment, and/or support.
A variety of educational resources targeted to both clinicians and the general public, which are available throughout this website.
WHY SCREEN?
According to SAMHSA, 21.6 million people needed substance use treatment in 2019.
Many individuals who are currently in need of treatment do not receive it. In 2019, only 10.3% of persons diagnosed with a substance use disorder received any treatment for it.
Substance use disorders and other mental health conditions frequently co-occur. Studies show that about half of those who experience a substance use disorder during their lifetime will also experience another mental illness and vice versa.
National Opioid and Substance Awareness Day will provide free, anonymous screening for a variety of substance use disorders and related mental health conditions, with connection to available evaluation and treatment resources in one's own community.
SCREENING TOOL
The screening tool for opioid and other substance misuse has been adapted from the World Health Organization's Alcohol Smoking and Substance Involvement Screening Test (ASSIST). The screening tool can be used by both individuals and concerned loved ones. It can be accessed here on this website. 
Our website also includes a tool for screening for suicide risk and other mental health conditions through Mental Health America's website. Mental Health America is a community-based nonprofit, whose website houses a collection of online, free, and anonymous screening tools to help individuals understand and learn more about their mental health.
Participants can self-administer the screening tools on a computer, tablet, or mobile device in the privacy of their home. All screenings are free and anonymous.
It is recommended that persons who are identified as at-risk either contact the facility where they are currently receiving their healthcare or a facility through SAMHSA's Treatment Locator (FindTreatment.gov) or SAMHSA's National Helpline at 1-800-662-HELP (4357). 
Online screening with referral will be available on this website prior to, during, and after the event, 24/7.
Important Reminders
SCREENINGS ARE EDUCATIONAL: It is important to emphasize that National Opioid and Substance Awareness Day is a public education program and that screenings are informational, not diagnostic. A complete substance use evaluation will be needed after screening to make an actual diagnosis and develop a treatment plan. Furthermore, even if the score on the online screening tool places a person or their loved one in the low-risk range, persons with concerns about substance use or health-related problems should contact their health care provider for a complete evaluation.
LIKE US ON FACEBOOK!
Like our new Facebook page and help us spread the word: